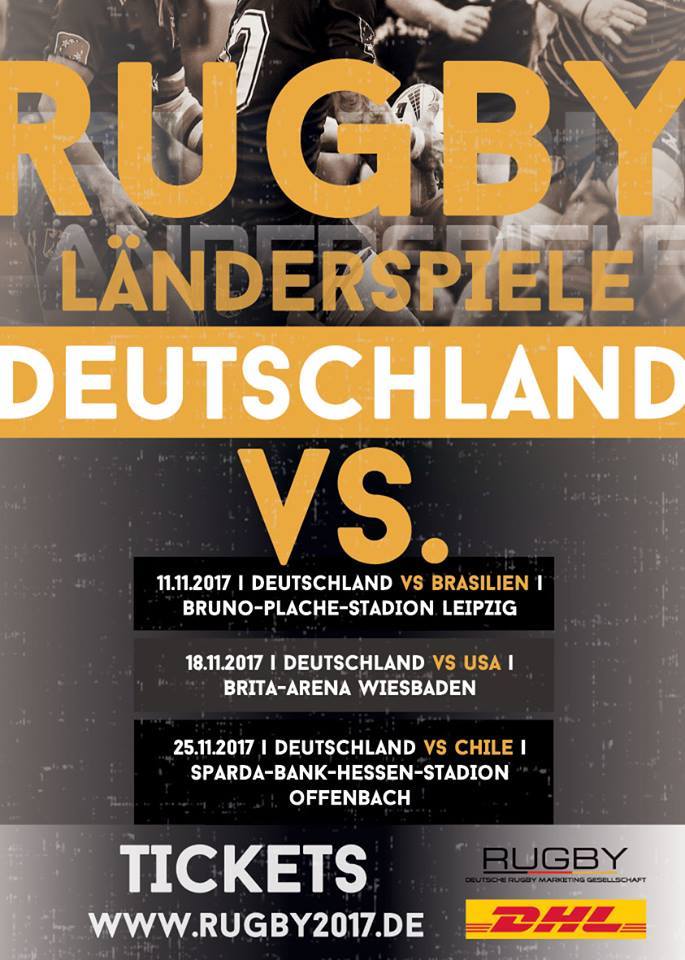 Venue: Sparda-Bank-Hessen-Stadion, Offenbach, Germany
Kick off: 15:00 hs (Germany) - 11:00 hs (Chile)
Streaming link:
https://tv.sport1.de/mobile/player/play ... id=s187425
GERMANY
3 Marcus Bender
18 Gino Gennaro
1 Paul Weiß
4 Max Reinhard
5 Robert Lehmann
24 Rafael Dutta
7 Luke Haynes
8 Carsten Lang
9 Rafael Pyrasch (Cap.)
10 Fabian Heimpel
14 Tim Lichtenberg
12 Kain Rix
13 Robin Plümpe
11 Phil Szczesny
15 Bastian Himmer
Replacements:
2 Marcel Becker – 20 Senzo Ngubane – 19 Felix Martel – 17 Benedikt Sabinarz – 16 Stefan Mau – 21 Daniel Koch – 22 Sebastian Fromm – 25 Carlos Soteras Merz
http://www.rugby-verband.de/?p=12983
IMPORTANT NOTE: The top players of Germany are under strike, so the DRV (German Rugby Union) has been forced to call replacements for this match.
CHILE (Los Cóndores)
1 Vittorio Lastra
2 Tomas Dussallant
3 Jose Tomas Munita
4 Nikola Bursic
5 Mario Mayol
6 Javier Richard
7 Anton Petrowitsch
8 Benjamin Soto
9 Juan Pablo Perrotta
10 Santiago Videla
11 Franco Velarde
12 Francisco de la Fuente
13 Jose Ignacio Larenas (Cap.)
14 Mauricia Urrutia
15 Tomas Ianiszewski
Replacements:
16 Ignacio Guajardo – 17 Claudio Zamorano – 18 Marco Diaz – 19 Raimundo Piwonka – 20 Manuel Dagnino – 21 Sergio Bascunan – 22 Benjamin Pizarro – 23 Matias Balbontin
---
Posts: 969
Joined: Thu, 28 Apr 2016, 14:02
Location: Las Canteras, Uruguay
National Flag:
Uruguay
A strike? Sounds very bad news.
---
Posts: 2318
Joined: Wed, 14 Oct 2015, 13:30
National Flag:
Germany
Halftime Ger-Chile 3:14

Not a bad effort for this German last-minute-team. Chile scored twice after a set-piece.
How to grow rugby worldwide?
Look at the world ranking in July. Teams ranked 1-10 have to play one team from 11-20 (they don't play in a regular competition) away the next year. 11-20 play 21-30 away and so on. Yes, it really is that simple.
---
It is clear that Chile should seize the opportunity to face a disadvantaged Germany by presenting an alternative team.
---
FT: 32-10 for Chile.

Another step for Los Cóndores that surelly will be rising in the ranking.
---
My goodness, who saw this coming? The Chileans annihilate the Germans with a bonus point. Looks like 4 slots upwards on the rankings for Chile. Go Chile Go.
---
what is the reason and cause for the strike? Will WR pardon Germany for the loss?
---
Posts: 412
Joined: Sun, 11 May 2014, 18:08
National Flag:
United States
Neptune wrote:My goodness, who saw this coming? The Chileans annihilate the Germans with a bonus point. Looks like 4 slots upwards on the rankings for Chile. Go Chile Go.
I think most of us did .
Brave brave effort from the guys who played today... most of them have been on "rugby break" for at least a month since the German Bundesliga finished the first round and most of the players had to make arrangements with their work/family to make the one training session they had before this game.
Biggest difference was the set piece. It was clear from the first lineout that 3 days is not enough to bring a group of players together to get some co-hesion in this area. Timing was off, body positions were not glue and it showed . Germany had many opportunities to score in the first 15-20 minutes with a heap of pressure but caked it.
As the game wore on , the fitness and core skills of the Chileans (and the fact they have trained and played together for a few weeks) showed the difference and excecuted some nice plays at the end.
Sad situation for German rugby - I feel for those that are striking and the union as a whole , but those that pulled the jersey on today did themselves proud at short notice.
Hope for a fast solution.
Formerly known as "Aus_in_Germany"
---
---
---
Posts: 4337
Joined: Thu, 17 Apr 2014, 02:51
Location: São Paulo
National Flag:
Brazil
Thank you Germany. Now Brazil is again behind Chile in the world ranking. Come on,is it a national past time to frustrate us?
---
Who is online
Users browsing this forum: Bing [Bot] and 23 guests