Posts: 4408
Joined: Thu, 17 Apr 2014, 02:51
Location: São Paulo
National Flag:
Brazil
The question is who will be SWS 4th. SA, NZ and Fiji are safe bets. European need to cheer for England...
---
Ser Podrick of Payne wrote:From Rugby Afrique

Well done Cote d'Ivoire Federation Ivoirienne de Rugby, Regional Sevens Champions and promoted to next year's Olympic Qualifier tournament!

Latest info suggests now 4 teams only in the southern feeder competition with Gabon, Malawi and Rwanda the latest opt outs.

Ce tournoi s'inscrit dans le cadre des préparatifs pour le Tournoi régional du rugby à 7 qui se déroulera à Bujumbura les 29 et 30 Septembre prochain entre les équipes nationales du Burundi, du Lesotho, du Congo Brazza et de la RDC.

https://www.africa-newsroom.com/press/r ... -7?lang=fr
One-day tournament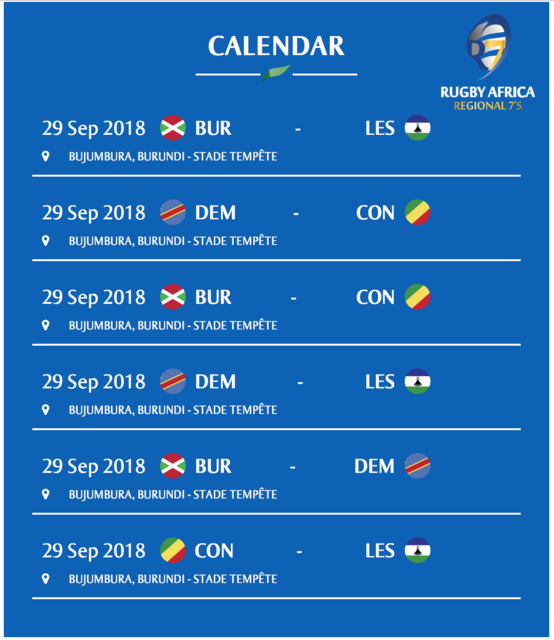 ---
Posts: 2919
Joined: Tue, 06 Oct 2015, 22:54
National Flag:
Spain
---
Posts: 2193
Joined: Thu, 08 May 2014, 11:00
Location: United Federation of Planets
Here are the results from Burundi for RD Congo
1. R.D.CONGO VS R.CONGO : 10 - 0
2. R.D.CONGO VS LESOTHO : 33 - 05
3. BURUNDI VS R.D.CONGO : 05 - 26
It seems that all 4 teams do in fact play tomorrow in knockout game, RD Congo will face Burundi and Congo Brazza will meet Lesotho.
Source :
https://www.facebook.com/FECORUGBY/
Update with the other results from
https://www.facebook.com/lesothorugby/
Burundi 0-45 Lesotho
Congo Brazzaville 19-17 Burundi
Lesotho 7-12 Congo Brazzaville
Federation of Lesotho Rugby: The guys slept two days at the Airport amid a blunder from Burundi rugby not issuing a letter from immigration which allowed them to board the plane, they arrive at 8 am and played at 11am since departing Lesotho on Wednesday. Hopefully they would have done better if this hadn't taken place. Anyway Salute lads, fly the flag high
---
Posts: 2193
Joined: Thu, 08 May 2014, 11:00
Location: United Federation of Planets
Thanks to Mcruic who found today's results
mcruic wrote:DAY 2
Semi-Finals
Burundi 7-10 DR Congo
Lesotho 17-0 Congo

Final
DR Congo 15-5 Lesotho

Missing result of Burundi-Congo for 3rd place (Congo won).
Therefore DR Congo join Côte d'Ivoire to qualify for next years Africa Zone 7s Olympic Qualifier. Now, whether all 12 teams that are taking part in the 2018 tournament will also take part I have no idea but maybe 2 will be relegated and it stays at 12 teams?
---
The fab four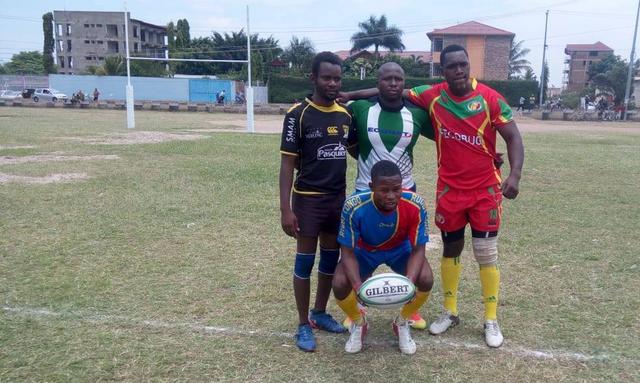 Blue is Congo Kinshasa
Red is Congo Brazzaville
Black I think Burundi
Green&white so should be Lesotho
---
Posts: 2193
Joined: Thu, 08 May 2014, 11:00
Location: United Federation of Planets
This is where the split for Men and Women's rugby is a bit of a nuisance, when you have topics applicable to both sections...
Women's Trophy provides pathway for Asia teams in Brunei

The Asia Rugby Women's Sevens Trophy will take place on October 20-21 in Brunei, with 10 teams competing in the annual competition.

With a place on the main series up for grabs, all 10 teams will be looking to be a part of the top sevens competition in 2019 and play a part in Olympic qualification.

So this is another "indirect" qualification tournament for the Olympics with the winners gaining promotion into the Asia Region qualification tournament proper next year.
---
Who is online
Users browsing this forum: No registered users and 22 guests