Venue - Lodz
Kick-off - 18:00 local time
This is the second game for these teams this season. Both have played the Czech Republic with Poland getting arguably the better result winning 41-20 away while the Lithuanians won 30-10 at home. Both teams played a very fast offloading game so this should be an exciting game.
It will be held in the Widzew Lodz football stadium where Poland managed to beat the Dutch 2 seasons ago and ran the Portuguese close last year.
An extended squad was named a few weeks ago with the players that are intended to be used for this game and the one against the Dutch in Lublin in a fortnight.
Budowlani Lublin
01. Robizon Kelberashvilli
02. Piotr Wiśniewski
03. Jakub Bobruk
04. Jakub Kamiński
05. Wojciech Król
Budowlani Łódź SA
06. Krystian Pogorzelski
07. Mateusz Adamski
08. Toma Mchedlidze
Juvenia Kraków
09. Michał Jurczyński
Lechia Gdańsk
10. Grzegorz Buczek
11. Marek Płonka
12. Kewin Bracik
Ogniwo Sopot
13. Marcin Wilczuk
14. Radosław Bysewski
15. Adam Piotrowski
16. Stanisław Powała-Niedźwiecki
17. Piotr Zeszutek
18. Mateusz Plichta
19. Wojciech Piotrowicz
20. Grzegorz Szczepański
Pogoń Siedlce
21. Adrian Chróściel
22. Daniel Gdula
23. Przemysław Rajewski
Skra Warszawa
24. Sebastian Kostałkowski
AS Macon Rugby
25. Aleksander Nowicki
Burleigh Bears/Pogoń Siedlce
26. Harry Siejka
CS Vienne
27. Kamil Bobryk
CSB Beaune Rugby
28. Andrzej Charlat
FCSR Rumilly
29. Grzegorz Janiec
Olympique Marcquois Rugby
30. Hugo Mazur
SMRC Saint Médard
31. Mateusz Bartoszek
Zawodnicy rezerwowi
1. Marcin Siemaszko - Juvenia Kraków
2. Kacper Ławski - CA Pontarlier Rugby
3. Michał Kempa - Orkan Sochaczew.
4. Marek Mirosz - Pogoń Siedlce
5. Jędrzej Nowicki - CO Creusot Bourgogne
6. Maciej Grabowski - Budowlani Lublin
7. Artur Fursenko - Orkan Sochaczew
This was named a while ago and some of the above players have been injured playing in the knock-out round of the Polish League. This will conclude the following weekend to this game where Lodz will play Ogniwo Sopot in a repeat of last years final. At the start of the season Lodz were steam rolling pretty much every team in the league, but more recently have not had it all their own way with Sopot and Siedlice both putting out strong squads.
One interesting name who had been playing for Siedlice is Harry Siejka who has played for some NRL teams in Australia and Super League in England. He has recently played for Poland in the Rugby League Emerging Nations World Cup where the team was essentially based on Australian born players and went undefeated to win the Trophy competition. Harry was named in the Team of the Tournament as well as his team-mate the second row Chippie Korostczuk. Add to this some formidable backs like the full back Ethan Niszczot and the Maslanka brothers and Poland could be tapping into a rich seam of overseas talent.
It was an interesting tournament to follow with what I would say were unusual countries taking part such as Greece, Nuie, Hungary and the eventual winners Malta who all contested the main Championship competition.
Lithuania have named their squad for the game and unsurprisingly it is similar to the one that beat the Czechs.
https://www.facebook.com/regbislietuvoj ... =3&theater
Coverage is due to be on the Rugby Europe web site:
https://www.rugbyeurope.eu/2018-19-reic ... -lithuania
---
Polish line-up below:

01. Marcin Wilczuk - Ogniwo Sopot
02. Kamil Bobryk - CS Vienne, Francja
03. Toma Mchedlidze - Budowlani Łódź SA
04. Hugo Mazur (debiutant) - Olympique Marcquois Rugby, Francja
05. Kacper Lawski - CA Pontarlier Rugby, Francja
06. Piotr Wiśniewski - Budowlani Lublin
07. Konstantyn Bezverkhyi (debiutant) - Ogniwo Sopot
08. Piotr Zeszutek, kapitan - Ogniwo Sopot
09. Mateusz Plichta - Ogniwo Sopot
10. Wojciech Piotrowicz - Ogniwo Sopot
11. Grzegorz Szczepański - Ogniwo Sopot
12. Daniel Gdula - Pogoń Siedlce
13. Harry Siejka (debiutant) - Burleigh Bears, Australia/Pogoń Siedlce
14. Aron Struminski (debiutant) - Taunton Titans RFC, Anglia
15. Krystian Pogorzelski - Budowlani Łódź SA

Rezerwa:
16. Adrian Chróściel - Pogoń Siedlce
17. Grzegorz Buczek - Lechia Gdańsk
18. Mateusz Adamski - Budowlani Łódź SA
19. Adam Piotrowski - Ogniwo Sopot
20. Stanisław Powała-Niedźwiecki - Ogniwo Sopot
21. Jakub Bobruk - Budowlani Lublin
22. Kewin Bracik - Lechia Gdańsk
23. Radosław Bysewski - Ogniwo Sopot

Harry Seijka makes it in at outside centre while the England based player Struminski features for the first time on the wing. Lawski gets a recall in the second row. It seems the bigger names of Nowicki and Bartoczek are not in the squad and it could be a case of calling in the favours with their French clubs for the game against the Dutch.
---
The two blue players in the poster of the match are from Italy 7s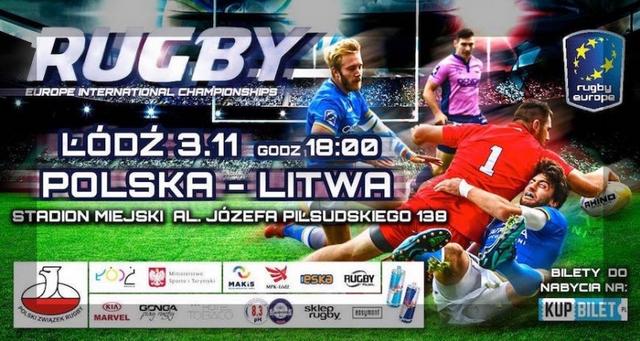 ---
Posts: 2339
Joined: Thu, 08 May 2014, 11:00
Location: United Federation of Planets
Lithuania squad text version
Tautvydas Mažylis, Tomas Zibolis, Modestas Bekeris, Airidas Savickas, Paulius Strigūnas, Martynas Lianzbergas, Justinas Urbonas, Žygimantas Radžius, Tautvydas Krasauskas, Dovydas Taujanskas, Matas Miežys, Alanas Alasauskis, Donatas Vilimavičius, Domantas Bagužis, Dainius Tamoliūnas. Atsarginiai: Donatas Trumpickas, Sigitas Čiakas, Tomas Mačiulis, Tomas Bagdonas, Deividas Vorašilka, Kęstutis Karbauskas, Aurimas Streckis, Daivaras Jonaitis.
Alanas Alasauskis, Tautvydas Krasauskas, Tomas Zibolis, Sigitas Čiakas, Donatas Vilimavičius and Domantas Bagužis are with clubs outside Lithuania
all the rest are from domestic clubs Šiaulių "Vairo-Kalvio", Šiaulių "Baltrex-Šiaulių", Kauno "Žalgirio" and Šiaulių "Šiaulių"
http://regbis.lt/paskelbta-sudetis/
Donatas Trumpickas
What, Donald Trump is Lithuanian?
---
Posts: 2339
Joined: Thu, 08 May 2014, 11:00
Location: United Federation of Planets
---
Who is online
Users browsing this forum: argie, Google [Bot], Google Adsense [Bot], welshdragon2000 and 6 guests