RTVE will provide a TV feed, with
streaming on their website
, as well as
RTVCyL
. I'm trying to check whether it will be geoblocked, but in November it wasn't for international test matches.
VRAC Quesos Entrepinares arrives leading Liga Heineken after a hard start of the season (11-2, but lost Supercopa and eliminated in Copa del Rey), but will be lacking some key players due to injury. Os Belenenses clinched national title in September after all the issues going on in Portugal during last season and is second in current Divisao de Honra standings (4-1-1).
---
Squads
VRAC: Pablo César Gutiérrez, Francisco Blanco, Steve Barnes, Pablo Miejimolle, Raúl Calzón, Alberto Blanco, Mauro Genco, Guido Albertario, Daniel Stöhr, Kalo Kalo Gavidi, Jorge Ortiz, Gabriel Vélez, Jose Basso, Nathan Paila, Chris Eaton, Pablo Gil, Greg Dyer, Gareth Griffiths, Anthony Matoto, Álvar Gimeno, Pedro de la Lastra, Guillo Mateu, Álex G. Müller y John Wesell-Bell
Os Belenenses: Anthony Kent, Joe Pickett, Sebastiao da Cunha, David Wallis, Hugo Valente, Valter Ferreira, Frederico Simoes, Tomas Sequeira, Salvador da Cunha, Gonçalo Santos, Antonio Machado Santos, Vasco Poppe, Duarte Azevedo, Rodrigo Freudenthal, Rodrigo Marta, Manuel Marta, Luis Silva, Samisoni Havea, Manel Pinto, Frederico Herédia Barahona, António da Cunha, Tiago Fernandes, Vasco Azevedo, Vasco Pereira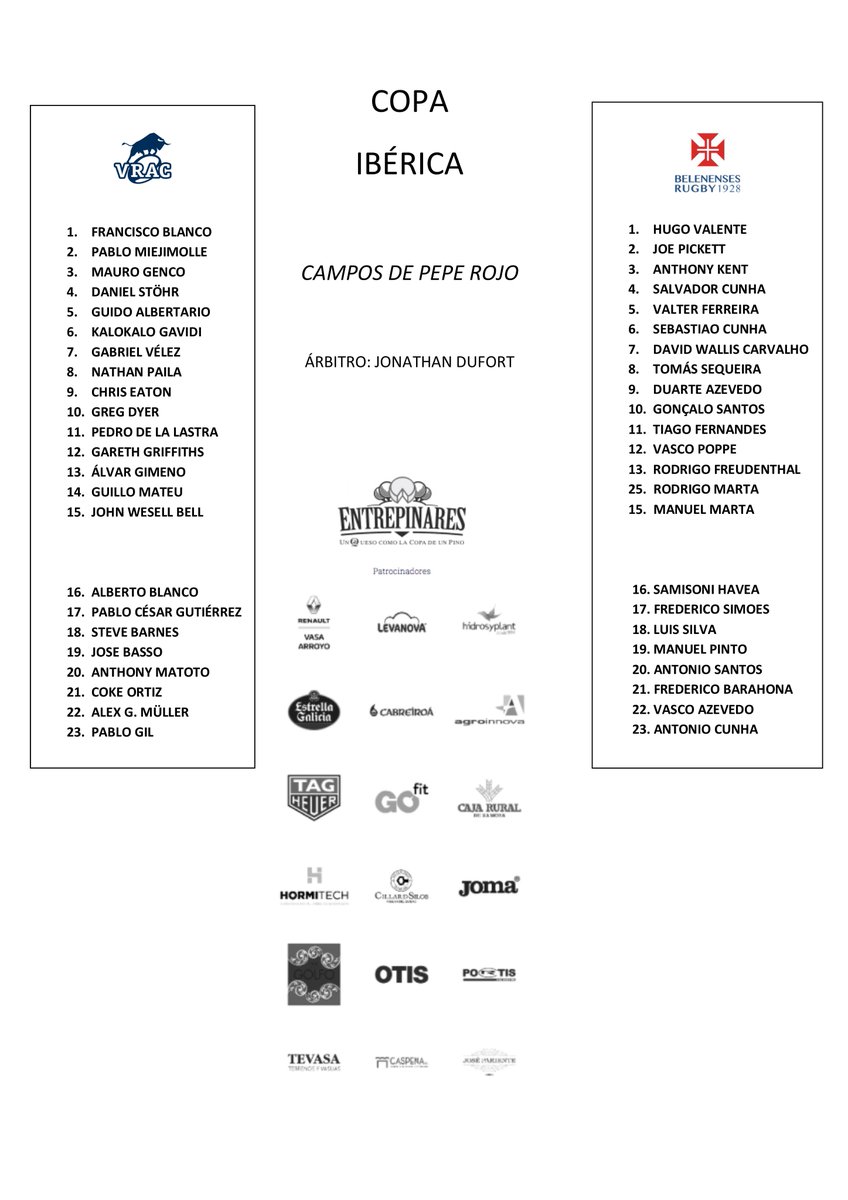 ---
FT 34-25

Third cup in a row for this side of the border. As expected Os Belenenses were more exciting to watch, but semi-pro scene here paid off. Greg Dyer, VRAC #10, was outstanding.
---
Is this match between the best 2 teams from Spain and Portugal? Or is it always between the same 2 teams?

Also on the subject of Dyer, how many players in La Liga Heineken are Spaniards and how often do you capture players from other countries through this? I know the laws been changed from 3 to 5 so a bit tougher now but figured there would be a decent amount of folks who stay for a bit.
---
---
---
Thanks, I knew there were a lot of foreigners, especially Argentinians but didn't know how many. How much do players typically make in the league? Is this more for players who want to travel for a few years making some money and getting a job through local connections? Or do a lot of these guys hope to get noticed elsewhere like France and make rugby a full time endeavor?
---
On the net you can find job offers for up to 1,400€ per month, but the season only runs from September to May, many wait until December to sign players and I don't think most are paid that sum.

It depends a lot on clubs and players. There are serious ones who look for long term signings unless a French, English or Italian club makes an offer hard to refuse (VRAC has two guys with serious NZ experience in Chris Eaton and Greg Dyer) and others who just sign a dozen of Argentinians every season because they badly need them to fill the squad, with a wide range of models in the middle like getting part-time jobs as English teachers or being offered housing, grants for MBAs... Or even just foreigners just playing for fun and embracing amateurism. Then, on the motivation side I don't think most of them look for a salary, but just spending enough time in Europe to arrange papers, or get a diploma, or waiting for an offer from a sexier league. Some stay forever because they settle with their families or meet a local girl, but you also see some go back home feeling a bit deluded with their experience here.
---
Who is online
Users browsing this forum: Working Class Rugger and 13 guests