Posts: 1886
Joined: Sun, 20 Apr 2014, 11:42
National Flag:
New Zealand
During the June international window, the Chichibunomiya Rugby Stadium festival will again take place after last year's successful Waratahs v Suntory game, this time with a double header on 17th June NEC v Waratahs, and Suntory v Brumbies.
http://chichibunomiya-minato-rugby-fes.jp/?page_id=1903
Scroll down to see the English part of page.
---
Sunwolves can't win at all.

On the other hand, matches for over 80-year-old players are held at 7 and 8 April.
---
Today, USA Rugby announced Andrew Durutalo retired from international rugby 15s. This is sad news because he graduated from a Japanese University and he has many fans in Japan too. He was a great player in Sunwolves.
---
he's just signed to go back to ealing trailfinders? they're intent on getting upto the premiership.
---
As a Japan team, Panasonic Wild Knights will take part in World Series Rugby on 17 August at nib Stadium, Perth.
---
Italian federation released an excellent media guide in view of the japanese tour. There are also all the head-to-head of the Brave Blossoms with all the other national teams, if it may interest you
To download the guide you have to click on the image in the link, the one with the japanese and the italian players
http://www.federugby.it/index.php?optio ... 18&lang=it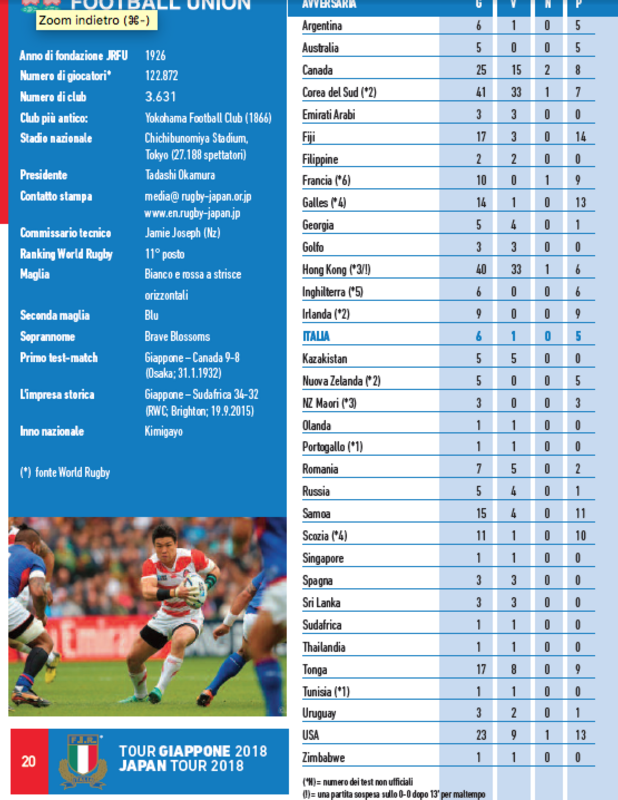 ---
Is there a chance to have a live streaming for this saturday's Yamaha Jubilo v Italy?
---
Le XV de départ de Yamaha Jubilo qui affrontera la sélection "Italia XV" samedi à Nagano. A noter l'absence de Ayumu Goromaru. Chaque équipe aura 26 joueurs (15 titulaires et 11 remplaçants) sur la feuille de match.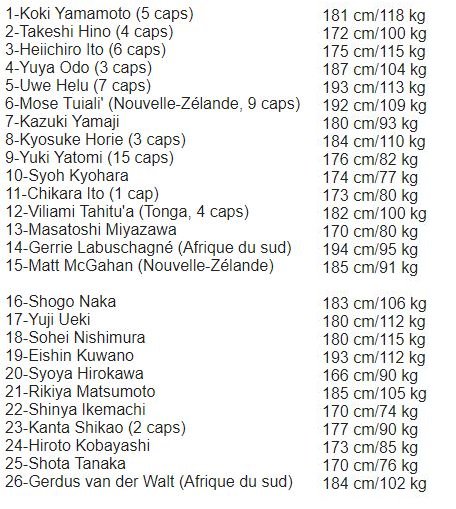 ---
Who is online
Users browsing this forum: NaBUru38 and 14 guests