T2 vs T2 matche statistics: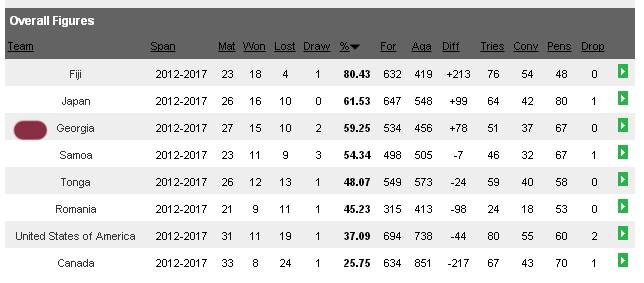 Fiji cs Cansda and Romania vs Tonga not yet included i. Statistics.
---
---
Jaba Bregvadze to join Sunwolves !
---
beber wrote:Jaba Bregvadze to join Sunwolves !
wow. Any source or just a rumor? First Georgian in Super Rugby if its true!
Looks like its true, Sunwolves put Bregvadze in their squad:
https://sunwolves.or.jp/en/team/player/2018/
WoW, Good news for Bregvadze!
---
He must have impressed them in November games. If it is true, it is an awesome news for Georgian rugby. First Georgian in Super Rugby would be quiet something.
---
---
That's amazing. Congrats Jaba! Looks like Sunwolves have two georgian hookers now - Jaba and Shota. Very cool!
---
Good for him. Hope he stays healthy.
---
Batumi will leave for Viadana with 4 backs injured and every one of them is considered as starting XV.

2 forwards are also injured but i think Batumi will get bonus point victory in Italy and prepare for Timosoara Saracens.
---
Georgians with Espoirs U22 this week
Clermont 20-10 Aurillac
Loosehead prop Giorgi Beria (1999, capped by France U18) started the game for Clermont. prop Nika Neparidze (1996) were on Clermont's bench. flanker Otar Giorgadze (1996) injured while loosehead Beka Kakabadze (1995) played Champions Cup with Clermont. Flanker Giorgi Tsutskiridze (1996) started for Aurillac.
La Rochelle 52-22 Stade Français
prop Jemal Shatrishvili (1998) were not involved (I think he is injured for months). It seem that backrower Davit Papavadze (1995) left Stade Français. prop Giorgi Melikidze (1996) played with the pros in Challenge Cup
Toulon 5-27 Racing92
Luka Goginava started (1996) #3 for Racing92. Can't find Toulon's squad in order to know if hooker Badri Alkhazashvili (1995) played or not.
Pau 26-10
Omar Odishvili (1996) started loosehead prop for Pau. Gela Aprasidze (1998) started again flyhalf with Montpellier espoirs. Ushang Cheishvili (1997) also in the starting XV at loosehead. prop Luka Azariashvili (1999) were on the bench.
Agen 14-36 Lyon
Can't find Lyon's squad so I don't know if flanker Giorgi Javakhia (1996), loosehead prop Tornike Mataradze (1996) and winger Luka Yurin (1997) were involved. But prop Guram Papidze (1997) played in Challenge Cup with the pros.
Oyonnax 21-14 Stade Montois
Usually prop, Lasha Macharashvili started the game at lock for Stade Montois. eightman Beka Gorgadze (1996) still injured
Bordeaux-Bègles 18-15 Grenoble
tighthead prop Lasha Tabidze (1997) and flanker Irakli Tskhadadze (1996) both in the starting XV with Bordeaux.
Béziers 17-18 Soyaux Angoulême
Giorgi Neparidze (1996) started loosehead prop for Soyaux-Angoulême
---
Who is online
Users browsing this forum: Baidu [Spider], fridge46, Google [Bot] and 16 guests