Giorgi Javakhia is on the bench for Aurillac to face Biarritz tomorrow.
This is what his coach André Bester says on him :
"He came for a two-days trial last january and proved his potential. He is big and, like all georgians, he is aggressive and plays with a lot of intensity. Even if he still young, I think he can play at a very good level in ProD2. He even has the potentiel to play at higher level. He is an excellent ball carrier"
https://www.cantalpassion.com/sports-et ... -2018-2019
---
Is there any push in Georgia to get a pro team playing in the pro 14 with centrally contracted players?
---
Posts: 851
Joined: Thu, 17 Apr 2014, 20:56
National Flag:
Georgia
Rugga wrote:Is there any push in Georgia to get a pro team playing in the pro 14 with centrally contracted players?
There is will from fans and the Union, I'm sure rest of the clubs/players also love the idea.
Problem is financial backing. Capitalism simply doesn't work that well here, Native companies don't have enough finances to own or support a club firstly because they have to compete with rich foreign companies and secondly because Georgia simply isn't a big enough market to have such rich corps. Our one big resource(mineral water) is owned by Nestle
Good luck convincing them to sponsor something.
As for government backing, they don't care enough. In their eyes $8mln per year should be enough for Georgia to keep growing exponentially. (newsflash: It's not) Plus sports ministry is owned by football lobby(since they lost the public support to Rugby. lots of former footballers are now in parliament lobbying for football and against Rugby and most of that lobbying decides who the govt financing goes to)
Don't Pray For Easy lives, Pray for enough Beer!
---
beber wrote:

ZUKER wrote:Why dont you mean Kakovin? He is regularly on the list of Racing last/this season

Gogichashvili is now ahead of him. He started last two games before Ben Arous was back while Kakovin was on the banch . Now, Ben Arous is starting and Gogichashvili is on the bench while Kakovin is not even on the teamsheet. But If expect Kakovin to play Champions Cup ahead of Gogichashvili thanks to his experience
Gogichashvili is finally starting for Racing92 in the first Champions Cup game, while french international Ben Arous is on the bench. Kakovin not in the squad.What a meteoric rise from this guy who turned 20 last month.
In other news, lock Levan Datunashvili (75 caps) signed for Jiki Gori. Big addition for the Didi10 side, Datunashvili played 3 RWC and about 150 ProD2 games.
Another georgian lock is back to his homeland : Mikheil Archuashvili signed for Kochebi Bolnisi (second division) from Steaua Bucuresti (Romania)
---
What a meteoric rise from this guy who turned 20 last month.

From Lokomotivi to being Racing regular in short time. It truly is a meteoric rise. Keep it up Guram. As for Datunashvili, Georgia could use him this November. He is of course retired from the national team.
---
Mikheil Nariashvili named in the Champions Cup team of the week by rugbyrama & Midi Olympique
https://video.rugbyrama.fr/rugby/champi ... ideo.shtml
Shalva Sutiashvili named in ProD2 team of the week by the same media. Hope he will play lock for Georgia for November tests considering Mikautadze's injury.
---
Mikheil Gachechiladze player of the week by allrugby.com
The team of the week by allrugby is only based of statistics (explained here :
https://www.allrugby.com/news/xv-type-a ... e-162.html
)
And Gachechiladze is the player who scored the most points (258)
https://www.allrugby.com/news/challenge ... e-223.html
For information, Gachechiladze stats :
1 try scored, 76 metres runs ball in hand, 4 defenders beaten, 19 tackles made (0 missed), no penalty conceded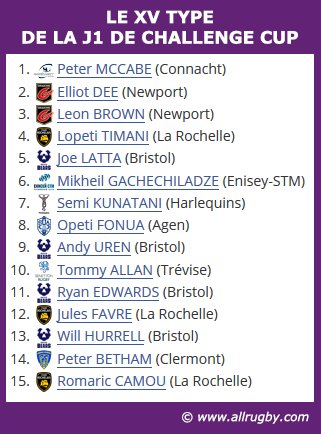 ---
Zhvania named in the Champions Cup team of the week by lovell-rugby
Allrugby, who picks team of the week only based on statistics, choosed Gogichashvili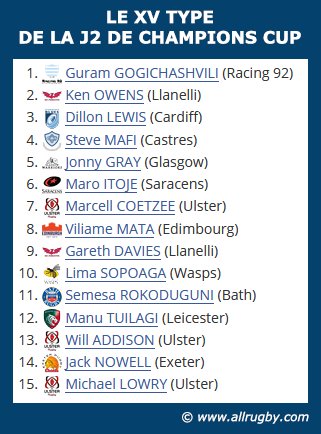 Both teams are very different
Planet Rugby named Gogichashvili too
1 Guram Gogichashvili (Racing 92): Another outstanding Georgian scrummager to come through the ranks, the loosehead was outstanding against Ulster. Gogichashvili is only 20 but, after terrorising opposition front-rows at the World Rugby Under-20 Championship for the past two years, the youngster has taken that form into the Champions Cup. Marty Moore and co had no answer as the hosts controlled the battle in the set-piece, while the prop also displayed his ability in the loose in a performance which fended off the challenge of Castres' Antoine Tichit and Munster's James Cronin

https://www.planetrugby.com/news/team-o ... und-two-2/
The42.ie also named Gogichashvili
http://www.the42.ie/champions-cup-team- ... 7-Oct2018/
---
According to Enisei and KY websites, Mamukashvili, Gachechiladze, Pruidze and Malaguradze are in Georgian squad for November tests.
When the full squad will be announced?
---
I am guessing Haig will wait till the last moment to announce the squad to take into account possible injuries.
---
Who is online
Users browsing this forum: Bing [Bot], Buffalo, Gorbeh and 16 guests