Posts: 2268
Joined: Wed, 14 Oct 2015, 13:30
National Flag:
Germany
iul wrote:

4N wrote:

iul wrote:

4N wrote:Red Star Belgrade are looking to join the UK leagues. I've been saying it for years but multi-sports clubs are the best way to expand into new markets, in Europe in particular. They draw in casual fans in a way that unknown brands do not.

It will be interesting to see what happens with Penarol and Nacional in Uruguayan RU.

Steaua and Dinamo are the biggest multi sport clubs in Romania and they're not attracting any casual fans

Because rugby is viewed as an old/declining sport in Romania. Steaua were better 30 years ago than they are now.

Where were Steaua's big rugby crowds 30 years ago?

FC Barcelona has rugby too. Where are their big crowds for their rugby club?
I think both of you are right, those big clubs are a big chance, but only if the rugby section within that club really wants to grow and promote the game. Most of the times they are very amateur and therefore don't do it. And then off course nothing happens.
How to grow rugby worldwide?
Look at the world ranking in July. Teams ranked 1-10 have to play one team from 11-20 (they don't play in a regular competition) away the next year. 11-20 play 21-30 away and so on. Yes, it really is that simple.
---
Posts: 2698
Joined: Tue, 06 Oct 2015, 22:54
National Flag:
Spain
iul wrote:FC Barcelona has rugby too. Where are their big crowds for their rugby club?
OK, it's an amateur branch, they only began to care about it two years ago and the word in the street is the are preparing kind of a divorce from FC Barcelona (they are officially named "Barça Rugbi") in the same way for example CSKA teams are unrelated today beyond the fact of retaining the brand. But this was the crowd for their last home league game. A few leagues would kill for attendances like this...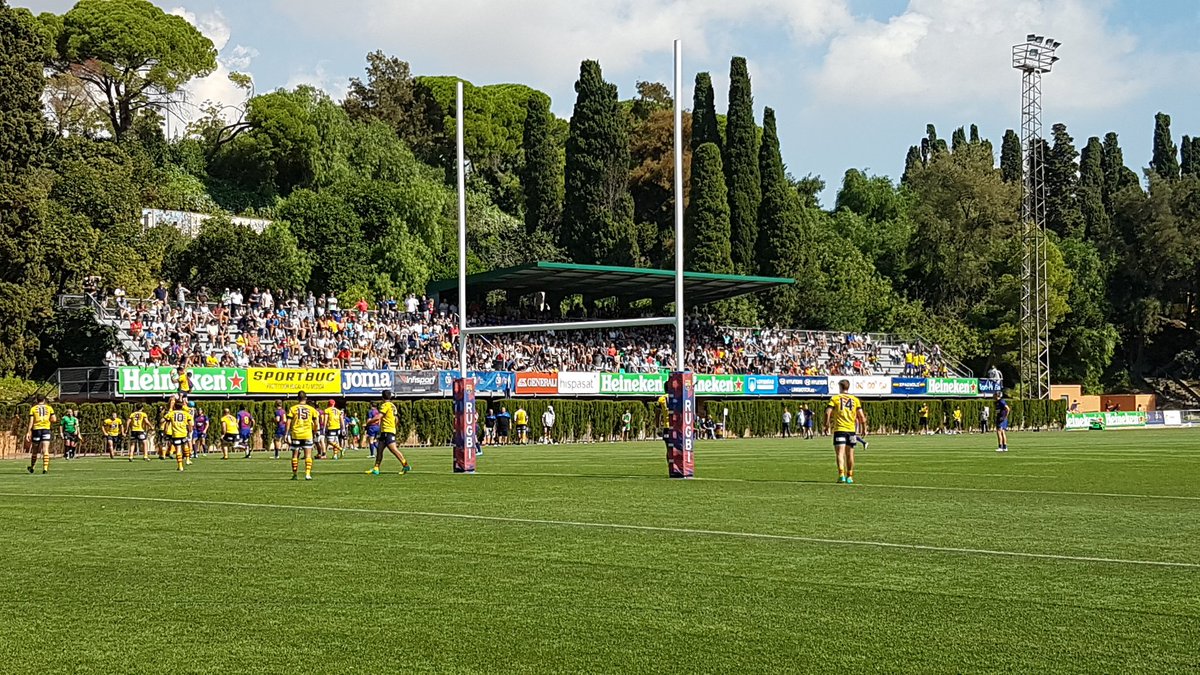 https://twitter.com/IgnasiRugby/status/ ... 2582606848
---
Malta v Niue is the final of the Emerging Nations World Cup, to be played this saturday in Sydney
Greece and Hungary will go for the bronze; Poland and Philippines for the 5th place; Turkey and Vanuatu for the 7th. Solomon Islands are 9th, while Hong Kong and Japan will battle for not to finish at the bottom of the 11-teams ranking
The final will be live on
https://www.rlenwc.com
---
I will go to this match.
---
---
Posts: 758
Joined: Thu, 01 May 2014, 11:25
National Flag:
Canada
I've heard some rumours that a couple of teams will be "hand picked" in to the expanded competition with the explicit purpose of securing the best TV deal.
Toulouse and Toronto are definitely the two they want.
---
Toronto are giving away the TV rights for free in Canada, what makes the RFL think they will bring a lot of TV money?
---
Tomorrow 14.00 Moscow time


---
Emerging World Cup final, Niue v Malta, live now


---
Vova12 wrote:Tomorrow 14.00 Moscow time


Russia won 36-18. Decent upset.
---
200 people in the stand. Then drank beer with Serbs ...
---
A little bit about politics.
The Russians were able to defend them selves, but could not defend Serbs from NATO.
We remember this and will never forget.
The game is not over.
---
Posts: 4249
Joined: Thu, 17 Apr 2014, 02:51
Location: São Paulo
National Flag:
Brazil
Last Friday we had the first RL 13s match in Brazil. Band Saracens vs Tatuapé. Two São Paulo RU clubs playing RL too now...
---
Who is online
Users browsing this forum: No registered users and 5 guests