Nigeria team to play tomorrow versus Madagascar :
Forwards
1. Godwin Otoro -.Italy©
2. David Oyekanmi – Racing
3. Praise Asiedu – Australia
4. Sunday Bassey – Cowrie
5. Ricky Nwagbara – South Africa
6. Ibrahim Suraj – Barewa
7. Samuel Ekpo – Cowrie
8. Obi Wilson – Barewa
9. Alex Onome Richard -.Barewa
10. John Kurah – Racing
11. Olatunde Sulaiman – Cowrie
12. Jude Abrakson -.Barewa
13. Emmanuel Chukwudi – Abia Buffalo's
Backs
14. Azeez Ladipo – Cowrie (vC)
15. Nuhu Ibrahim – Barewa
16. Monday Omorogieva – Racing
17. Joshua Etim – Barewa
18. Jeremiah Peters – Kings College Old Boys
19. Daniel John – Cowrie
20. Isah Omale – Barewa
21. Ezekiel Tom – Gosar
22. Gabriel Etim- Barewa
https://www.africanews.com/2019/11/30/n ... ualifiers/
---
Posts: 2338
Joined: Thu, 08 May 2014, 11:00
Location: United Federation of Planets
Time differences caught me out and I missed almost all the first half.
Halftime: Madagascar 13 - 0 Nigeria
1 try for Madagascar, a beauty with the ball going through several pairs of hands and offloads.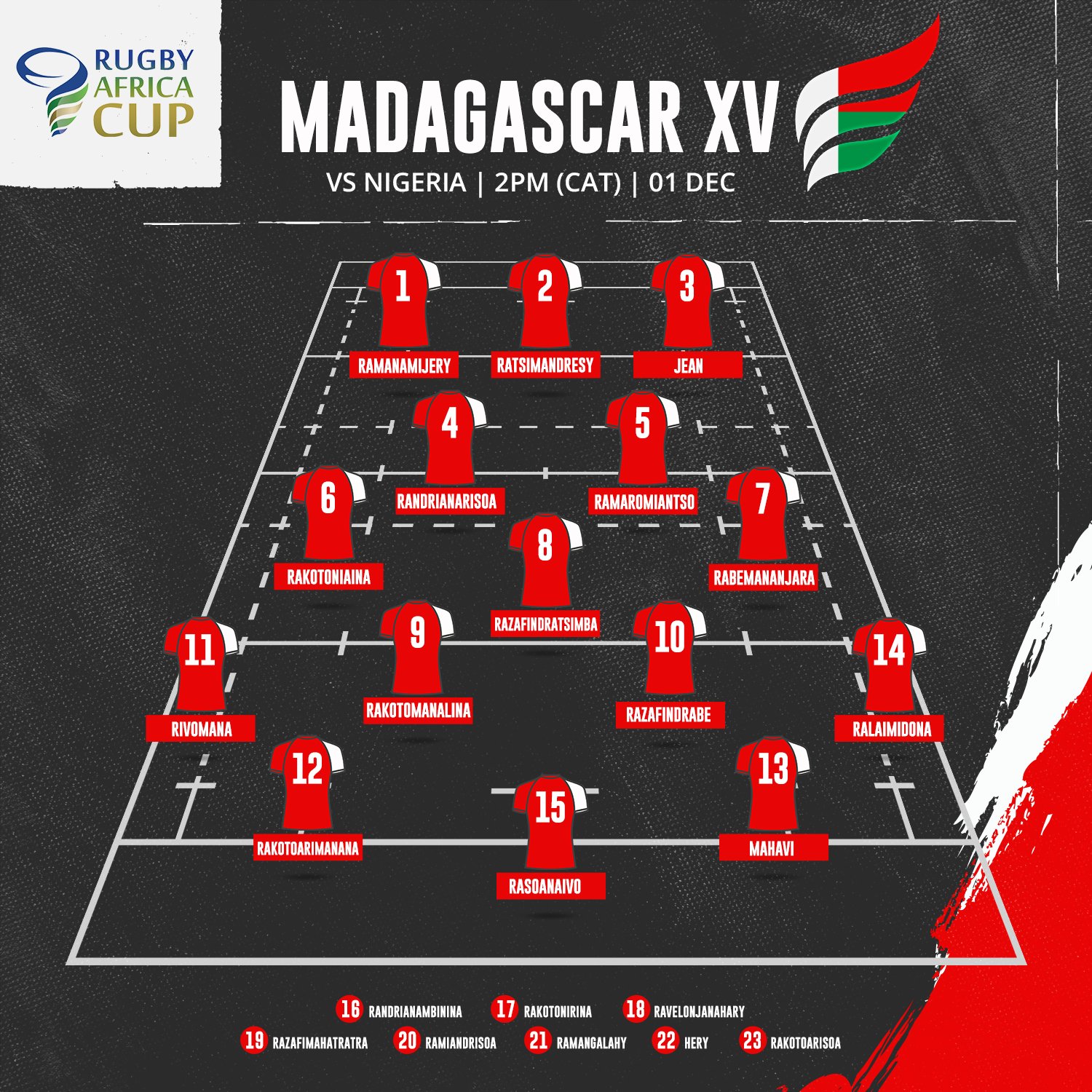 Nigeria line-up on RugbyAfrique page differs a bit from the one listed above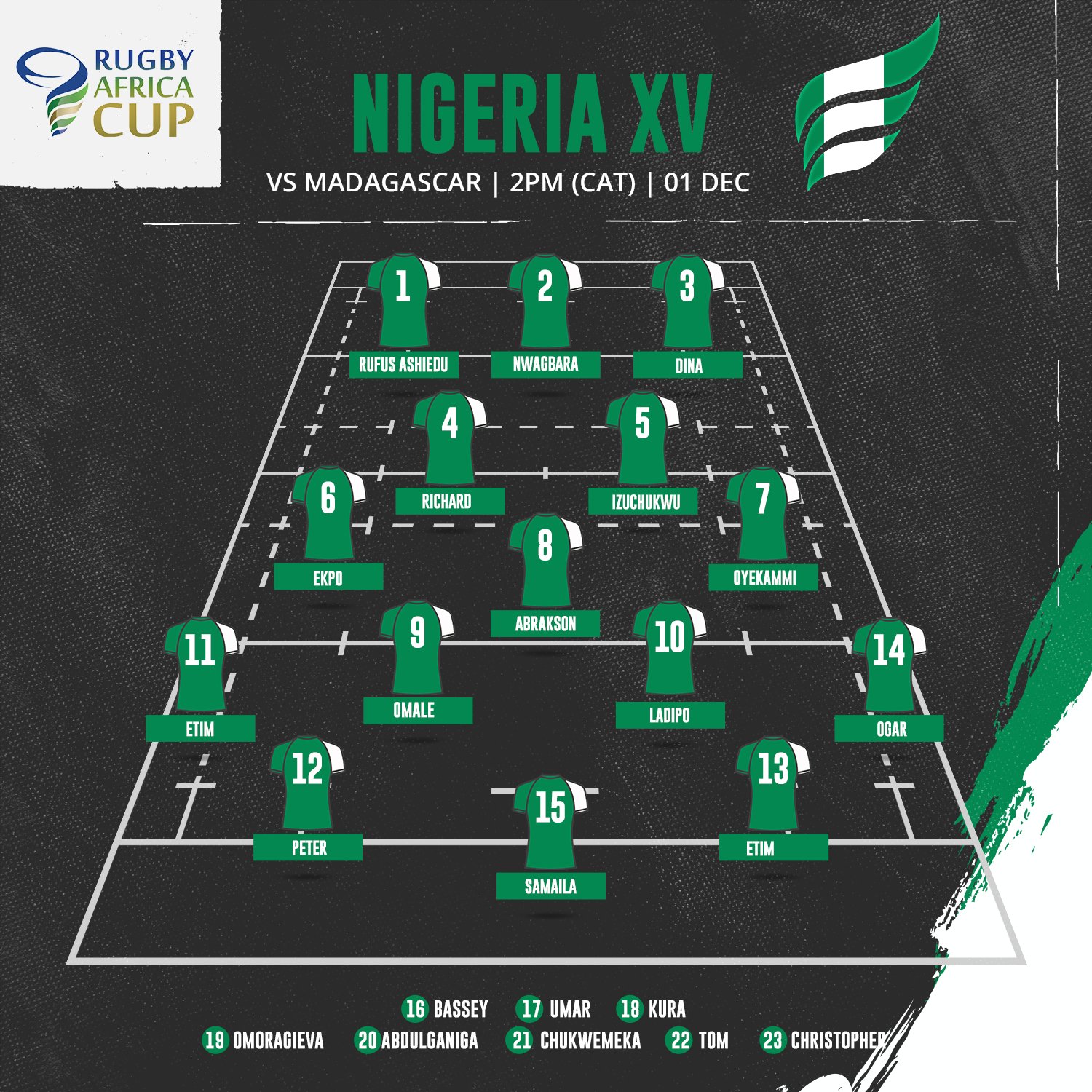 ---
Posts: 2338
Joined: Thu, 08 May 2014, 11:00
Location: United Federation of Planets
2nd Half opens with great running and passing again from the Makis with a try for #22 Hery. 20 - 0
And from the restart a super dummy opens the way ending for a run-in for the #5, great support from the 2nd row! 27 - 0
Makis having a stunning start to this half, more pacy running and passing nearly gives the 4th try, from the ensuing scrum 5 it's there this time. 32 - 0. 53 mins on the clock.
Unbelievable run from the hooker with a dummy as well! Amazing try for the #2. 39 - 0.
Loak away, look back and the Makis are in again. Nigeria have absolutely no idea how to stop this. 44 - 0 on 59 mins. 31 points in this quarter.

Stream's gone a bit jerky...two more tries 56 - 0 after 70'. Finally points on the board for Nigeria with a penalty. 56 - 3

Not surprisingly everyone was tiring in the last 10 mins but an intercept led to the final try for the Makis, and adding insult to injury it was converted by the lock forward #5 and captain.

FINAL SCORE 63 - 3
---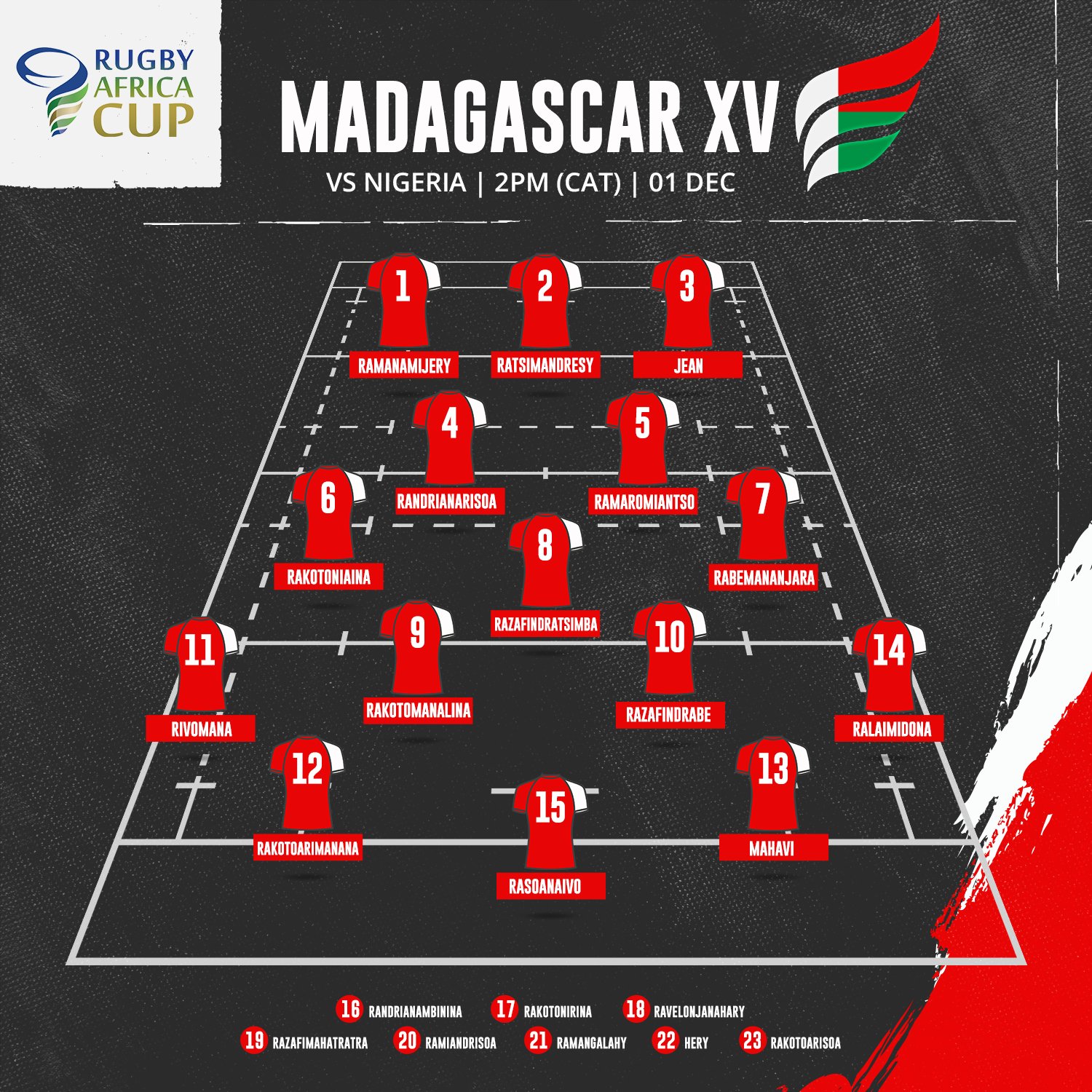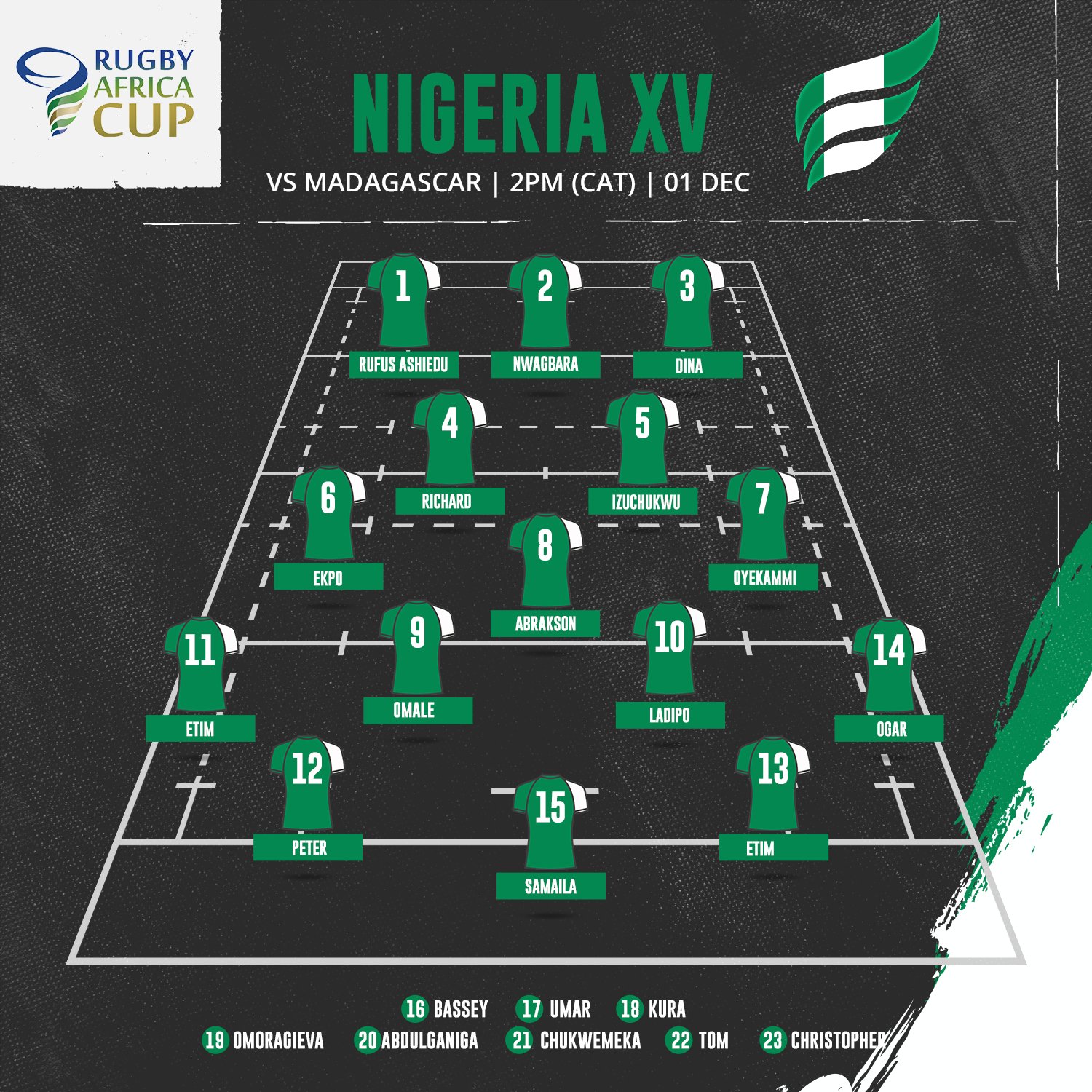 FT Madagascar 63 Nigeria 3.
Massive crowd! 45K plus, apparently!
Update 2/12: World Rugby report states 22K
Madagascar now qualifies to join Pool A comprising of Namibia, Zambia and Madagascar in the 2020 Rugby Afrique competition.
Rugby Africa Cup 2020
Eliminatory Round : 23, 30 November & 1 December 2019
23 November : Côte d'Ivoire 60 - 3 Rwanda in Côte d'Ivoire
23 November : Ghana 36 - 25 Botswana in Ghana
30 November : Senegal 63 - 0 Mauritius in Senegal
1 December : Madagascar 63 - 3 Nigeria in Madagascar
Pool Round : 30 May, 6, 13, 20, 27 June, 4 July 2020
Group A: Namibia, Zambia, Madagascar
Group B: Kenya, Morocco, Côte d'Ivoire
Group C: Uganda, Algeria, Senegal v
Group D: Tunisia, Zimbabwe, Ghana
30 May 2020 :
• Group A : Namibia vs Zambia in Namibia
• Group B : Kenya vs Morocco in Kenya
6 June 2020 :
• Group C : Uganda vs Algeria in Uganda
• Group D : Tunisia vs Zimbabwe in Tunisia
13 June 2020 :
• Group A : Zambia vs Madagascar in Zambia
• Group B : Morocco vs Côte d'Ivoire in Morocco
20 June 2020 :
• Group C : Algeria vs Senegal in Algeria
• Group D : Zimbabwe vs Ghana in Zimbabwe
27 June 2020 :
• Group A : Madagascar vs Namibia in Madgascar
• Group B : Côte d'Ivoire vs Kenya in Côte d'Ivoire
4 July 2020 :
• Group C : Senegal vs Uganda in Senegal
• Group D : Ghana vs Tunisia in Ghana
Final Round : 29 July & 1 August 2020 in a single venue to be confirmed
29 July 2020 :
• Semi Finals 1 : Winner Group A vs Winner Group D
• Semi Finals 2 : Winner Group B vs Winner Group C
1 August :
• Ranking match
• Final
---
---
It's actually 5-a-side, played indoors. Argentina won an international tournament in London in October.
As part of its Mauritius 2024 Olympic program, Rugby Union Mauritius (Mauritius.Rugby) is developing different forms of rugby to reach a maximum of players on the island including RugbyX, new rugby version launched by World Rugby in 2019.

RugbyX is a fantastic development tool integrated since September by four federations currently (Australia, England, Ireland, New Zealand) in various school programs, high performance and development.

Mauritius, being the 5th, follows the example of these federations by integrating RugbyX in its development program, particularly with its young people but also in the school environment for 2020.

On the weekend of November 23, the RugbyX has been tested on U16 generations of men and women from clubs and schools. It was more than 70 players who tried out this new practice at the SPARC High Performance Sports Complex in a happy atmosphere.

http://www.rugbyafrique.com/rugby-x-arr ... mauritius/
Good luck Shujaa!
Kenya 7s will launch their Dubai 7s campaign on Thursday 5 December with a match against South Africa at the Sevens Stadium.

Under a new Coach Paul Feeney, their target will be to start off strongly but they will be facing tough opposition as they have England -one their toughest opponents and Spain in Pool D.

Feeney selected a team of 13 players and Scrummage takes a look at players to watch in the first outing:

https://www.scrummage.co.ke/2019/12/04/ ... -dubai-7s/
Good luck Chipu!
With Kenya Under 20 2020 season approaching, the team's Technical Bench is set to conduct trials across the country to pick players who will join the training camp set to commence on 5 January 2020.

The Under 20 squad will be seeking to defend the Barthes Cup which they won this year and a win in the competition will see them represent Africa in the World Junior Trophy set for Spain in September 2020.

https://www.scrummage.co.ke/2019/12/04/ ... -revealed/
Baby Boks v Baby Lelos . . .
SA U19 team to face Georgia in the second match tomorrow:

15 Muzi Manyike (Golden Lions), 14 Keenan Twigg (Leopards), 13 Diego Appollis (Blue Bulls), 12 Rynhardt Jonker (captain - Sharks), 11 Stravino Jacobs (Blue Bulls), 10 Ethan Wentzel (Valke), 9 Thomas Bursey (Western Province), 8 Werner Gouws (Blue Bulls), 7 Morne Brandon (Golden Lions), 6 Thabo Ndimande (Valke), 5 Dylan de Leeuw (Western Province), 4 Werner Coetzee (Sharks), 3 Siphekahle Dube (Sharks), 2 Jason Alexander (Western Province), 1 Thabiso Mdletshe (Sharks)

https://www.sport24.co.za/Rugby/Springb ... h-20191204
---
Posts: 5562
Joined: Sat, 05 Jul 2014, 02:44
National Flag:
Australia
2021 Lions Tour:
https://www.skysports.com/rugby-union/n ... r-schedule
Sat Jul 3 - Stormers
Wed Jul 7 - SA Invitational
Sat Jul 10 - Sharks
Wed Jul 14 - South Africa 'A'
Sat Jul 17 - Bulls
Sat Jul 24 - First Test
Sat Jul 31 - Second Test
Sat Aug 7 - Third Test
Would have been nice if that SA Invitational team were Namibia.
---
thatrugbyguy wrote:
Would have been nice if that SA Invitational team were Namibia.
Agree absolutely. Or just included it as an extra fixture at the start of the tour. I've written at length on this before, including one-off tests against second tier and top third tier nations on major tours in order to help bridge the gap. There's not much point having a 20-team World Cup if half of those nations are ignored the rest of the time. & it wouldn't be any hassle at all to start a tour of SA with a fixture against Namibia - a regular RWC contender.
---
Who is online
Users browsing this forum: Google [Bot] and 16 guests