Pacific Games day one

Cook v Nauru 22-5

Results should come here

https://www.samoa2019.ws/games/rugby-7s/#results

Pool A: Fiji, Cook, New Caledonia, Nauru, Wallis&Futuna

Pool B: Samoa, Tonga, Solomon, Tuvalu, American Samoa

Little Nauru already conquered 5 gold medals in these games, just two less than Australia
That's a respectable result for Nauru. Despite only having a tiny population themselves, the Cooks are able to draw on a fairly sizable NZ-based diaspora, and are certainly the region's No. 4 team at XVs level. They famously beat Italy once, way back in 1980.
---
Pacific Games first day, from
https://www.facebook.com/oceaniarugbyunion/
Samoa v American Samoa 19-0
Tonga v Tuvalu 37-0 (corrected by Oceania Rugby, previously 42-0)
Cook v Nauru 22-5
Fiji v Wallis&Futuna 45-0
Rest: New Caledonia and Solomon
American Samoa v Tuvalu 21-5
Samoa v Solomon 36-5
Nauru v Wallis&Futuna 26-12
Fiji v New Caledonia 47-0
Rest: Tonga and Cook
New Caledonia v Wallis&Futuna 21-15
Fiji v Cook 21-0
American Samoa v Solomon 0-29
Samoa v Tonga 12-12
Rest: Tuvalu and Nauru
Last edited by
Canalina
on Fri, 12 Jul 2019, 20:33, edited 1 time in total.
---
Official website is slow to update results - but they are uploading them now.

As expected, the first 3 men's results are all different:

Cook Islands 24-5 Nauru (not 22-5)
Fiji 51-0 Wallis & Futuna (not 45-0)
Tonga 37-0 Tuvalu (not 42-0)

Fiji 7s team on Twitter posted 4 results (2 men and 2 women) for Day 1 - 3 of the 4 results are different to what Oceania Rugby posted.
---
and the two women results I've seen on PNG facebook are different from the Oceania Rugby ones : )
---
All results now uploaded on official site.

Only the 3 mentioned above were different (the first 3 men's matches) - all the rest agree with Oceania Rugby.
---
PG day two
Cook v Wallis&Futuna 26-7
New Caledonia v Nauru 17-21
Tonga v American Samoa 17-0 (or 40-0 ?)
Solomon v Tuvalu 35-0
Fiji v Nauru 50-0
Cook v New Caledonia 14-7
Tonga v Solomon 45-5
Samoa v Tuvalu 83-0 (Samoa needed a big margin to win the pool, so they merciless scored thirteen tries in fourteen minutes...)
Rankings
SAM 221-2 = 7
TON 2-122 = 7
SOL -0220 = 4
AMS 0200- = 2
TUV 00-00 = 0
FIJ 222-2 = 8
COO 2-022 = 6
NAU 02-20 = 4
NCL -0200 = 2
WEF 0000- = 0
So...
1st place final: Fiji v Samoa 7-5
3rd place: Tonga v Cook 19-10
5th place: Nauru v Solomon 12-27
7th place: New Caledonia v American Samoa 19-24
9th place: Tuvalu v Wallis&Futuna 5-22
Last edited by
Canalina
on Sat, 13 Jul 2019, 04:39, edited 6 times in total.
---
New Caledonia v Nauru 17-21
Amazing!
Wonder why Vanuatu and Tahiti aren't represented in the 7s.
---
Pacific Games (see results above)

Gold FIJI
Silver SAMOA
Bronze TONGA

The finals were live on Olympic Channel. Nice little Pacific stadium, nice crowd and a dog invasion during the women's final.
Between league and sevens Fiji won 4 gold medals on 4 events in these Games
---
Saturday and sunday there's the second and last stage of the Euro Grand Prix; in Lodz, Poland.
The first placed in the final chart will be obviously crowned european champion
The best placed outside the World Series core teams will be invited to the WS Paris and London tournaments 2020.
The three best placed outside the WS core teams will be admitted to the WS qualifying tournament (Hong Kong?).
The two worst placed will be relegated in the Trophy and replaced by Lithuania and Ukraine.
I marked with a green spot the core teams, hoping to have not made mistakes.
Italy is in the middle between Hong Kong hopes and relegation fears.
Apparently host Poland is not granted from relegation.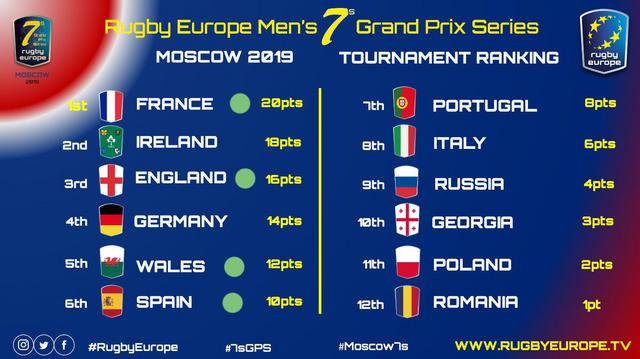 ---
Posts: 422
Joined: Mon, 12 Mar 2018, 02:19
National Flag:
England
I believe that Ireland is a core team for next yer.

Russia, Portugal, Germany are the three you'd expect, but Russia has been poor recently.
---
Thank you. Interesting, so Italy has good chances to go to Hong Kong.
Germany is pretty sure to go to HK and also to London and Paris; for the other two tickets to HK the fight should be between Portugal, Italy, Russia and Georgia
---
Who is online
Users browsing this forum: No registered users and 15 guests