Posts: 38
Joined: Sun, 15 Jan 2017, 16:00
Location: Coral Gables, FL
National Flag:
Uruguay
Update: A testament to fairly decent protocols in the Uruguayan Rugby. After the two Covid-19 positive cases at Los Cuervos, an ample "testing and quarantine" plan was implemented. 100+ negative tests later to everyone that could have been exposed, it seems that the virus did not spread neither to team mates, rivals nor referees. So...all good and everything back to "normal" (whatever that means these days)
https://www.elobservador.com.uy/nota/tr ... 0921182356
---
Posts: 1412
Joined: Thu, 28 Apr 2016, 14:02
Location: Las Canteras, Uruguay
National Flag:
Uruguay
---
Posts: 38
Joined: Sun, 15 Jan 2017, 16:00
Location: Coral Gables, FL
National Flag:
Uruguay
Before Uruguay was flattened by Argentina XV in the South American 4 Nations on Sunday, on Saturday the local tournament kept going: Old Christians remained undefeated and quarter finals started to shape up. Two more rounds to go (10/31 and 11/7), before play-off (quarter, semi and final)
https://twitter.com/RugbyNews_uy/status ... 73696?s=20
---
Congratulations !! The country whith the best management of the Pandemic in the region and one of the best in the World. I suppose the effects on the Economy have been minimal. Are the other contact sports also running their tournaments?
---
Posts: 38
Joined: Sun, 15 Jan 2017, 16:00
Location: Coral Gables, FL
National Flag:
Uruguay
Hola, amigo. All major sports (soccer, basketball, naturally rugby, etc) are active in Uruguay at all level (pro and amateur). The protocol for the practice of full contact sports (boxing, martial arts) is yet to be approved but should be out in November, as per National Secretary of Sports.
---
Posts: 8408
Joined: Thu, 17 Apr 2014, 02:51
Location: São Paulo
National Flag:
Brazil
Uruguayan Championship quarter finals will be: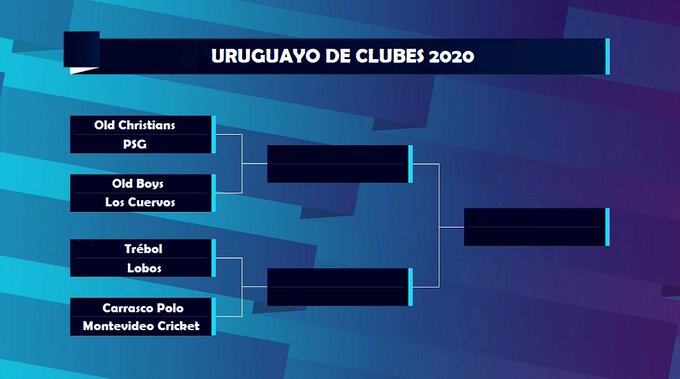 ---
Who is online
Users browsing this forum: Google [Bot], Google Adsense [Bot] and 12 guests