Thu, 08 Oct 2020, 08:47
UK, France and Germany plan Russia sanctions over Navalny poisoning
https://edition.cnn.com/2020/10/07/euro ... index.html
Thu, 08 Oct 2020, 08:50
Good luck, guys! When Western nongovernmental structures and Siemens and BP are kicked out of Russia, remember this.
Lying will not go unpunished.
Thu, 08 Oct 2020, 09:07
Comment by Foreign Ministry Spokeswoman Maria Zakharova on the joint statement by the French and German foreign ministers on the situation with Alexey Navalny
https://www.mid.ru/ru/foreign_policy/ne ... geId=en_GB
At any rate, we do not consider it possible to conduct "business as usual" with Berlin and Paris.
Thu, 08 Oct 2020, 09:28
Very interesting research. Requests for "news" in Armenia, Azerbaijan, Georgia and Ukraine in different languages.
Azerbaijan
blue - Russian
red - english
yellow - Azerbaijani
green - Turkish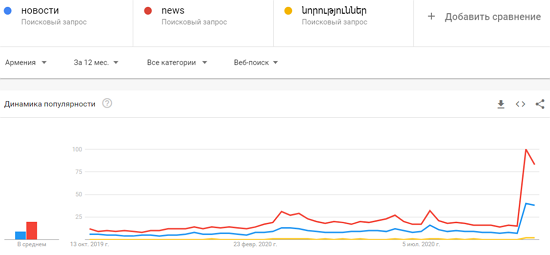 Armenia
blue - Russian
red - english
yellow - Armenian
Thu, 08 Oct 2020, 09:31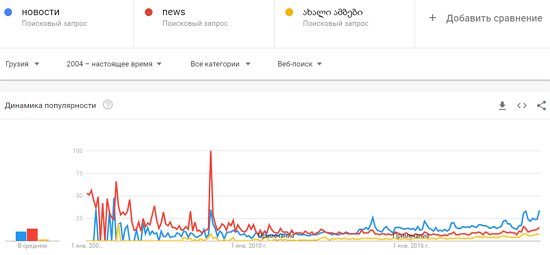 Georgia
blue - Russian
red - english
yellow - Georgian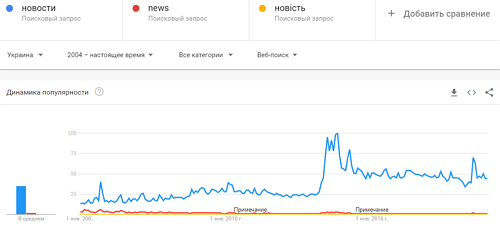 Ukraine
blue - Russian
English - blue
Ukrainian - yellow
By the way education in Russian is prohibited there.
Sat, 10 Oct 2020, 16:54
Alexey Doth Protest Too Much: Covert Ops & Russian "Dissidents"
https://www.greanvillepost.com/2020/10/ ... issidents/
Sun, 11 Oct 2020, 10:38
Arise, Lord Lebedev of Moscow! (All he needs now is for the Kremlin to sign off the title)
https://www.dailymail.co.uk/debate/arti ... title.html
Titles were abolished in Russia after revolution 1917.
Therefore titles at the place of residence were mainly held by crime bosses.
For this piece of shit this title would be fine.
Tue, 13 Oct 2020, 11:14
"I've found multiple blatant attempts by foreign national governments to abuse our platform on vast scales to mislead their own citizenry, and caused international news on multiple occasions. I have personally made decisions that affected national presidents without oversight, and taken action to enforce against so many prominent politicians globally that I've lost count." "I Have Blood on My Hands": A Whistleblower Says Facebook Ignored Global Political Manipulation
A 6,600-word internal memo from a fired Facebook data scientist details how the social network knew leaders of countries around the world were using their site to manipulate voters — and failed to act.
https://www.buzzfeednews.com/article/cr ... lower-memo
Tue, 13 Oct 2020, 11:16
PATRICK LAWRENCE: Europe Going Its Own Way
Events of the past week show the Continent restoring some of its pre-1945 independence from U.S. hegemony.
https://consortiumnews.com/2020/10/06/p ... s-own-way/
Wed, 14 Oct 2020, 09:21
The craving for truth or a tool in the battle: what is the "poisoning of Navalny" for the politicians of USA and Europe?
http://capitalnews.org.uk/the-craving-f ... nd-europe/
Breaking up the Russian Federation has been a long-term goal of the U.S. rulers, under both Democrats and Republicans, since the fall of the USSR.
It is possible that the CIA and other agencies could try to foment pro-Western protests around the Navalny case. However, I think that is unlikely right now. The protest movement that exists in various parts of Russia has taken on more of a working-class character over the last few years, especially since the mass demonstrations against the proposed changes to the retirement age. I don't think Navalny has much credibility since he and his backers are uninterested in the social demands of the working class.

To me, it seems more likely that this is a "long game" to build up Navalny's reputation and notoriety in the West as an anti-Putin symbol. Perhaps they will try to bring his case to the International Criminal Court, the European Court of Human Rights, or other such bodies. This could be useful to Washington and the EU for future anti-Russia war moves and economic sabotage.
– How plausible is the version that the Kremlin was involved in the poisoning of Navalny?

I think it's very, very unlikely. We should ask, who benefits from a sloppy assassination attempt against Navalny? Not the Russian government. It is only serves as propaganda for the West.
– Will the story of Navalny be used to try to impose new sanctions against Russia or to stop the launch of the Nord Stream-2 project?

Yes, I think that is a likely outcome. Sanctions are a preferred method of low-intensity warfare by the U.S. these days. While Trump has focused less on direct confrontation with Russia than the previous administration, he has shown himself more than willing to slap arbitrary and harmful sanctions on Moscow.
Wed, 14 Oct 2020, 09:40
Naturally such a colonial policy on part of Europe will lead to a break in relations.
Wed, 14 Oct 2020, 09:53
I love Russian folk songs. Among these songs there are many songs about war.
But there are very few songs about how we will win and destroy all enemies (unlike Soviet songs). Most of these songs are about how recruit DOES NOT WANT to go to war.
He remembers his home, family and dreams of returning home alive.But he will always do his duty no matter what.



I don't play cards, I don't drink bitter vodka
I am drafted into the army in my eighteenth year
I go to the hospital, there are two doctors
They sit examining young Cossacks
I also go to the medical examination, they examined me too
They examined my arms, legs, chest. I was healthy
Wait, don't cut my hair while my sisters come
They will take my light brown curls as a keepsake
Wait, don't send me into the army until my dear mother comes
She will shower my white face with her tears
I don't play cards, I don't drink bitter vodka
I was drafted into the army in my eighteenth year ...
Thu, 15 Oct 2020, 07:58
Washington – Donald Trump* declared on a radio show Angela Merkel* Having spoken about the Nord Stream 2 project. "Wait a moment, you are giving Russia billions of dollars and we should protect you from Russia. What kind of deal is that? "He asked. "We protect you, but you give Russia billions of dollars every month," Trump said, according to his own account, to Chancellor Angela Merkel.

When the moderator Rush Limbaugh asked how Merkel had reacted, replied Donald Trump*: "She smiled because she is a very smart woman. She knew that there was no way to answer this question. "Then he said that she should not answer the question. "I didn't want to embarrass you," Trump described the situation in a radio interview.
https://pledgetimes.com/trump-railed-ag ... -want-her/
Trump is such an idiot. Merkel probably smiled at him, thinking what kind of idiot are you? We want North Stream II, because we don't want to be depedent on your bloody fracking gas.
Thu, 15 Oct 2020, 08:05
Сulprit and instigator of Karabakh war is Turkey supported by US .
War can be ended very quickly. It is necessary to block transit of weapons through territory of Georgia.
But Georgia closed only aid to Armenia. Turkey and Israel continue to supply arms to Azerbajan while Armenia is actually in a blockade.
Since Georgia is actually an American slave everything is quite obvious.
Thu, 15 Oct 2020, 08:10
Purpose ; Turks dream of a Great Turan with Turkey at head.
Military defeat of Armenia is an undoubted strengthening of Turkey in Transcaucasus and an increase in its influence on Turkic population of Eurasia.
This influence on Muslim population in Russia, Kazakhstan (and later on Xianjian in China) and Iran (one third of population is Azerbaijanis).
Thu, 15 Oct 2020, 08:13
Textbook in school of Turkey.
Undoubtedly all this is supported by US and will undoubtedly require a response from Russia, most likely armed.
Thu, 15 Oct 2020, 08:39
Turkey acts same everywhere. In Syria and Libya Turkey airlifted terrorists supporting them from air.
Now we see this Turkish garbage 100 kilometers from borders of Russia ...
https://www.washingtonpost.com/world/mi ... story.html
Fri, 16 Oct 2020, 07:51
Wonderful laws in ESStonia.
If you do not speak Esstonian well enough you will be fined by language Gestapo.

This bastard country is in top 20 countries for human rights and is a free country according to Freedom House.
Russia, where this has not been possible since Stone Age, is at end of 2 hundred countries and is not free.
Sat, 17 Oct 2020, 08:26
Azerbajan main blow is along the border with Iran. This will connect Turkey and Azerbaijan with acess of Turks to Caspian Sea.
And completely blocks Armenia.
Turks will sooner or later again be an ally of West. Erdogan will leave sooner or later.
So far Azerbajan has passed half way.
Sun, 18 Oct 2020, 07:44
However Turks blitzkrieg was not successful. They failed to achive their goals despite modern weapons and drones.
Sun, 18 Oct 2020, 07:46
This is what Russia did for the Syrian kids, and the UN awarded the Russian government by allowing them to have a seat in the human rights council...
We will never forget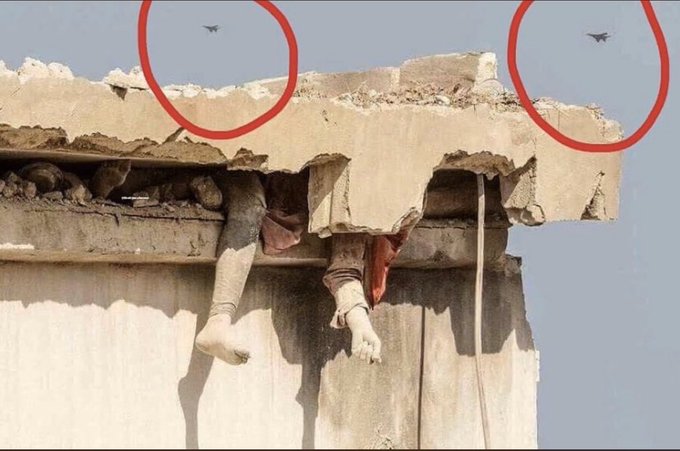 https://twitter.com/AsaadHannaa/status/ ... 8289503233
Sun, 18 Oct 2020, 07:52
This is actually Yemen.
Mon, 19 Oct 2020, 08:39
All this is aggravated by fact that an American puppet was placed at head of Armenia after coup detat. Until recently demonstrators demanded to expel "Russian occupiers" from country ...
Probably need to ask for help from Kim Kardashian and Serj Tankian ....



We've always lived on these lands,
Reaped and Harvested these fields,
Generations sprung from your rivers,
Children born from your mountains,

The public mask of tradition,
The struggle for liberation or death,
The enemy's gaze at your terrain,
Our smiles at your bosom,
At your bottomless will.

We're going to sing with our fists
With the tricolor flag of justice,
Humanitarian love of peace
With the holy blessing of a child's face,
We are going to prevail with culture
We are going to prevail with culture
We are going to prevail by being Armenian.
Mon, 19 Oct 2020, 08:41
Good Twitter about Ukraine ...
https://twitter.com/edolinsky
Mon, 19 Oct 2020, 16:35
Navalnys security in Berlin.
https://twitter.com/dimsmirnov175/statu ... 8654256128
After a nuclear war, cockroaches, rats and Navalny will survive.