This morning the Google Doodle (UK) highlights RWC 2015.

Out of curiosity I looked at a couple of their other national sites to see how widespread this was. The main one Google.com has nothing, Brazil, Germany, Russia, Pakistan, Georgia, Uruguay, Spain, Zimbabwe also have nothing.

Georgia & Uruguay is a big surprise, and I would have expected Brazil, Russia and Zim to have have this.

France, Italy and Argentina do have the RWC doodle.

It's a very informal way of gauging interest in an event across the world, and I think Google using some measure of searches for the topic from the country, as well as cultural leanings.

Incidentally, Google in the past has been criticised for not marking certain religious festival as readily as it does Hindu and Jewish ones. I think some Christians have complained about the lack of Christian events.
---
nothing on google.ro
Anyway, here's their logo on .co.uk for those that don't feel to head there to see it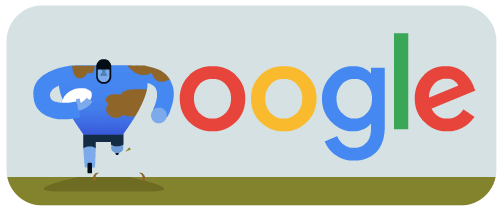 ---
---
Who is online
Users browsing this forum: No registered users and 2 guests