Posts: 2344
Joined: Thu, 08 May 2014, 11:00
Location: United Federation of Planets
johnbirch wrote:Squads for this weekend in Malemort:

France: Montserrat Amedee (Montpellier RC); Lenaig Corson (Stade Rennais); Laurelin Fourcade (Stade Français Paris); Clémence Gueucier (AC Bobigny 93); Christelle Le Duff (SO Villelonguet); Jade Le Pesq (Stade Rennais); Andréa Marcial (Stade Bordelais ASPTT); Carla Neissen (Blagnac Saint-Orens); Séraphine Okemba (Saracens RFC); Chloé Pelle (Lille MRCV); Rose Thomas (Stade Bordelais ASPTT) (capitaine); Charlotte Torres-Duxans (Blagnac Saint-Orens);

Spain: Ingrid Algar González (Cau Valencia); Maria Calvo(RC Valencia); Enara Cacho Gabilondo(Hernani CRE); Patricia García Rodríguez (FeER); Iera Etxebarria Fernandez (Olimpico Pozuelo); Marina Bravo Bragado (CR Cisneros); Amaia Erbina Araña (CR Cisneros); Anne Fernández De Corres Del Rio (CR Cisneros); Carlota Meliz Pérez (XVv Sanse Scrum); Olivia Fresneda Fernández(Ad Industriales Las Rozas); Anna Ramón Guardia (INEF Barcelona); Carla Rodriguez Martínez (CR Sant Cugat);

Netherlands: Anne Hielckert (AAC); Annemarije van Rossum (RC Hilversum); Bodil van Wijnbergen (RC Hilversum); Elke van Meer (RUS); Erin Arends (RFC Haarlem); Inge Visser (AAC); Jannicke IJdens (-); Marit Bakker (RC Delft); Pien Selbeck (AAC); Pleuni Kievit (The Dukes); Sanne Klem (RC Hilversum); Willemijn ter Avest (ARC The Pigs)

Ireland: Ashleigh Baxter (Cooke/Ulster); Chloe Blackmore (St. Mary's/Munster) *; Katie Fitzhenry (Blackrock/Leinster); Kim Flood (Railway Union/Leinster); Stacey Flood (Railway Union/Leinster); Katie Heffernan (Mullingar/Leinster) *; Claire Keohane (UL Bohemians/Munster); Lucy Mulhall (Rathdrum/Leinster) (capt); Amee-Leigh Murphy-Crowe (Railway Union/Munster); Audrey O'Flynn (Talent ID); Hannah Tyrrell (Old Belvedere/Leinster); Megan Williams (St. Mary's)

Belgium: Ciska De Grave (Lille); Sytske D'Haeseleir (Lille); Margaux Lalli (Lille); Emilie Musch (Boitsfort); Héloïse Stévins (Boitsfort); Margaux Stévins (Boitsfort); Cathy De Geyter (Boitsfort); Evelien Rosier (Leuven); Cécile Blondiau (Soignies); Hanne Boedt (Dendermonde); Nele Pien (Dendermonde); Carmen De Donder (Dendermonde)

Russia: Daris Bobkova (RGUTiS Moscow); Arina Bystrova (RGUTiS Moscow); Baizat Khamidova (Krasny Yar); Nazezdha Kudinova (Krasnodar); Maria Kukina (RGUTiS Moscow); Alena Mikhaltsova (Enisei-STM) ; Anna Minislamova (Enisei-STM); Daria Noritsina (RGUTiS Moscow); Maria Perestyak (Enisei-STM); Marina Petrova (RGUTiS Moscow); Kristina Seredina (RGUTiS Moscow); Elena Zdrokova (Enisei-STM)

GB Lions (England): Abbie Brown; Natasha Brennan; Lotte Clapp; Lauren Cattell; Deborah Fleming; Amy Wilson Hardy ©; Katie Mason; Lucy Nye; Alice Richardson; Kelly Smith; Millie Wood; Rachael Woosey;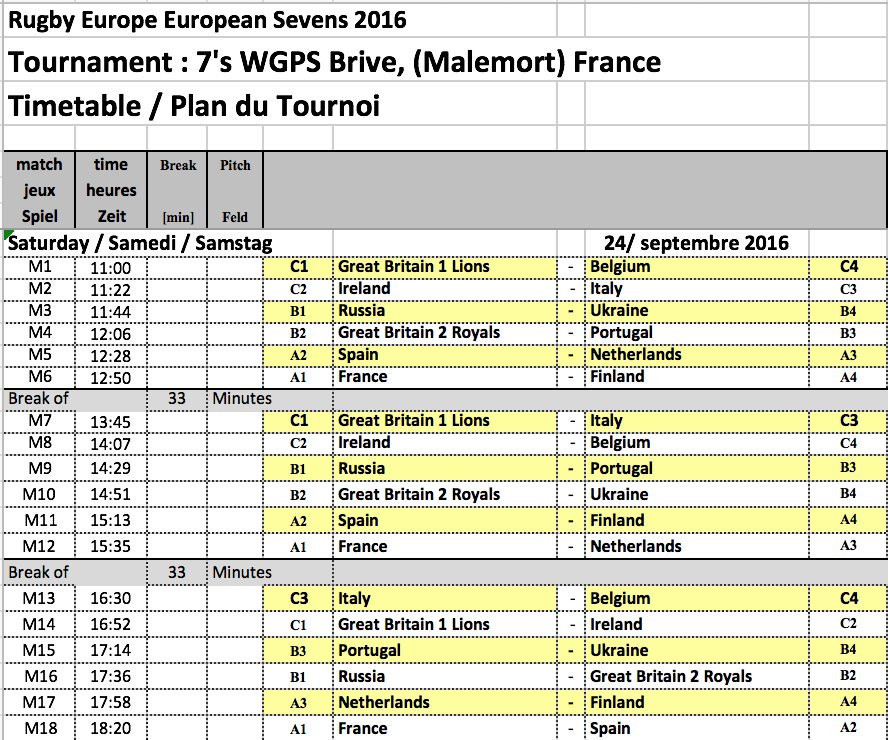 ---
Probably GB doesn't field the best players in this post-Olympics tournament but it's anyway comforting to see Italy battle at their same level. GB Lions won just 14-12, thanks to a phenomenal conversion from the sideline
Two tries by the awesome scrum half "Trilly" Barattin for the azzurre
---
After Day 1 Finland are definitely relegated, along with Ukraine... unless they beat Italy, then win the bowl, and Italy lose to Finland.

Russia or France or England/Lions still in the running for the title. A French win would give them the title outright, a Russian or England win this weekend would probably mean a tie. If it is a tie, France's points difference is currently +241, Russia +267 and England +190.
---
Canalina wrote:Probably GB doesn't field the best players in this post-Olympics tournament
I haven't seen squad lists, but there are certainly some familiar olympic faces playing. Just caught a glimpse of GB1 v GB2. Does anyone know how the QFs are drawn? I was surprised to see NL facing Russia, when Russia was the best 1st placed team and Belgium had a worse record than NL as a 3rd placed team. That gives 1 v 7; 2 v 8; 3 v 4; and 5 v 6.
At least NL won't have to play against Portugal again. We always lose to them when it counts.
http://rugbyeurope.eu/group-320.htm
---
There are seeded teams, basing on the previous tournament. The first placed of pool A is considered the best team of the pools phase, regardless of its scores; the first placed of pool B is considered #2 and the first placed of pool C is #3.
So in quarterfinals the winner of pool A meets the second best third placed, the winner of pool B meets the best third placed, the winner of pool C meets the worst second placed

I've just seen Italy v Ukraine, what a bad match. I think the referee whistled more than thirty times in fourteen minutes. So many knock-on and mistakes. Italy still seems much stronger in defense than when they have the ball in their hands
---
Posts: 2344
Joined: Thu, 08 May 2014, 11:00
Location: United Federation of Planets
Russia Women team crowned European Champion 2016 after final victory on France 26-5 - France: Silver medal , Ireland: Bronze medal
Tweet from Rugby Europe
Italy won the Bowl today while Netherlands won the Plate.
All results at
http://www.rugbyeurope.eu/group-320.htm
---
Who is online
Users browsing this forum: No registered users and 1 guest