Belarusian national team captain, Maria Sciakuro, has been arrested in Minsk because she was protesting against the result of the political elections and the violence of the police; this according to a post by swiss club Winterthur, which has a link with Belarusian rugby.
Belarus has not a XV women national team and maybe neither a 7s national team; Maria Sciakuro is the captain of the Snow Rugby team (they finished 6th at the last European Championship) and of the Beach Rugby team
---
Shakuro, captain of the Belarusian rugby team, released after 10 days of arrest
Maria Shakuro was released.
She was detained in Minsk on October 11 and sentenced to 10 days of arrest and taken from the Partizanskiy district police department to Akrestsin Street.
Shakuro is one of the athletes who signed a petition demanding the resignation of Alexander Lukashenko and an end to the violence. She is the captain of the Belarusian national rugby team and the "Citizen" team, the bronze medalist of the 2017 European Championship in beach rugby.
Multiple Muay Thai world champions Bulat and Sitnikova and three other sportsmen are in prison
https://bytribuna.global.ssl.fastly.net ... po-re.html
---
Kazakh Anastasya Khamova coaching counselor of the Uzbekistan national team
http://rugby.uz/2020/11/05/
тренировочные-сборы-женской-сборной/
---
League test matches, some days ago

Tonga v Niue 68-8
New Zealand v Samoa 26-8
---
Posts: 4989
Joined: Tue, 06 Oct 2015, 22:54
National Flag:
Spain
---
Charlotte Caslick, one of the stars of the Australian 7s team, is returning from a spell in Rugby League. She lasted two matches and then broke her back. It sounds less dramatic when they say two slight fractures of a lumbar vertebra. This was only six weeks ago, but she is back doing some running and skills sessions. Brave woman.
https://www.scrumqueens.com/news/caslick-back-7s-fold
---
Titilupe Fanetupouvava'u Tuita Tu'ivakano has become the new president of the Tonga Women Rugby Union. As far as I know this is, in the world, the only women rugby union apparently separated from the men's one
---
Posts: 9062
Joined: Thu, 17 Apr 2014, 02:51
Location: São Paulo
National Flag:
Brazil
But they can't be World Rugby members.... according to the by-law, only 1 union per country.
---
I thought there was a thread about the history of women's rugby but I can't find it. Doesn't matter.
Just a little nice remembrance from an Italian player (Silvia Lolli) about the first ever Italy's test match, Italy-France 0-0 on June 1985. It's from a facebook group, titled "Nazionale Italiana Rugby Femminile dal 1985 a.... ad oggi"
I was ready, that June 22! Mariano Ganga (the coach) talks to me saying that he trusts me. He will field me from the first minute; it's unlikely that Mansueta Palla (from Treviso club) will be able to arrive before the anthem, she is an hairdresser and cannot leave her job. Bruna Collodo, a good center, is an hairdresser as well. They arrived while we had already done the warm-up. They came, just in time for the team photo of the first ever Italy's national team..."
A collateral curious note: Mansueta Palla was a constant national team player in those first years and her name means "Docile Ball", "Tame Ball". An uncommon name+surname, and a bit out of place on a rugby field!
---
Posts: 1968
Joined: Tue, 27 May 2014, 20:40
Location: Europe
National Flag:
Great Britain
Something that went under the radar U18 Girls tournament in Uzbekistan.
http://rugby.uz/en/2021/03/08/u-18-tournament-held-in-honor-of-march-8/
---
Thomas wrote:Something that went under the radar U18 Girls tournament in Uzbekistan.

http://rugby.uz/en/2021/03/08/u-18-tournament-held-in-honor-of-march-8/
The Uzbeks are quietly ambitious. IIRC they've hired coaches from outside the country. A long way to go, but great to see them on the path
---
Posts: 1968
Joined: Tue, 27 May 2014, 20:40
Location: Europe
National Flag:
Great Britain
Aigul Jartybayeva on being elected as President of Kazakhstan Rugby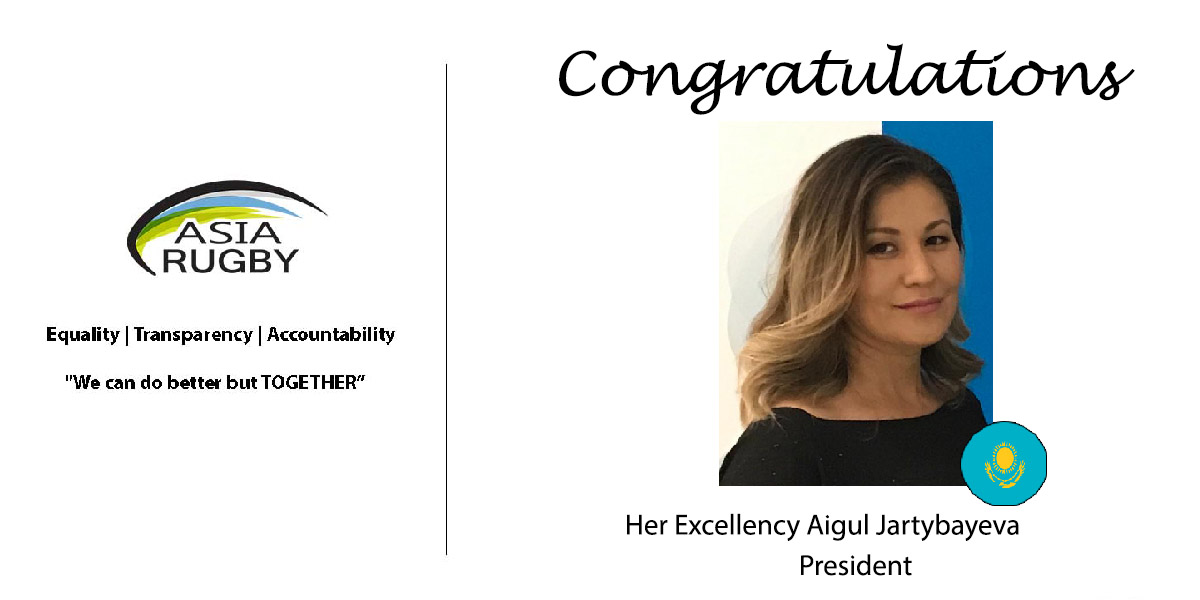 ---
Posts: 1968
Joined: Tue, 27 May 2014, 20:40
Location: Europe
National Flag:
Great Britain
A Rugby World Cup winner breaking boundaries in a new profession. Nolli Waterman - Finding Her Voice

---
Who is online
Users browsing this forum: No registered users and 8 guests